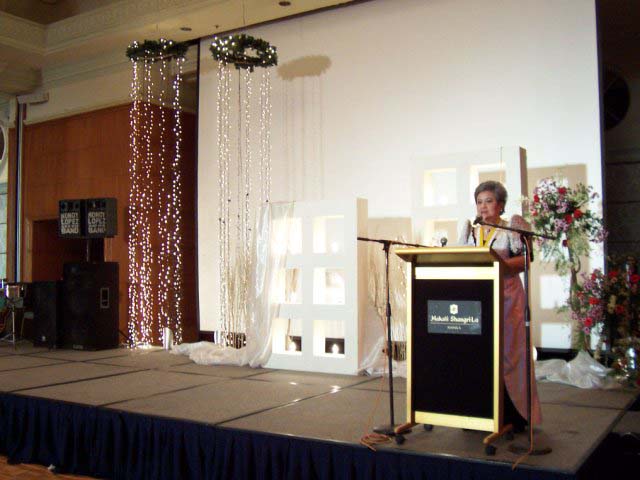 INAUGURAL SPEECH
December 18, 2005
I take pride and honor to be the USTMAA President for 2006 & lead this august organization for 1 yr. The USTMAA has been transformed to a different organization as previously alluded to as "pang-sosyalan lang". I believe that USTMAA has gone beyond that reputation & has made changes in order to improve the welfare of its alumni especially in terms of linkages & network. We are starting the computerization of our data base so that fellow Thomasians will be bridged as far as the internet satellite could reach whether local or abroad.
I wish I could do more in terms of programs that will truly benefit all Thomasians alumni. But I & the USTMAA Board won't be able to do this on our own. We need the support of our members like you, our fellow alumni. I think I would want to dispel the notion that this organization even the faculty & the university are always asking for financial support. Realistically, funding is an integral part of any association's existence. If we do ask for assistance, it will be cascaded to our various projects to be able to address the needs of the members. USTMAA is not only the Board; it is all the Thomasian doctors. My vision is to see our organization span the boundaries of time & economic difficulties towards the realization of service, loyalty, & commitment to each other, our faculty, & the university.
At this point class '80, please stand to be recognized. Likewise, let me recognize my family who has always inspired me & completed my life: my mother, Natividad Duque-Decena, also a Thomasian doctor, graduated in 1941, & has exposed me early to the alumni association. In her younger years, she was also involved in their class activities; my father who recently died is surely happy to see where I am because he was himself hesitant in making me pursue a medical career; and to my only sibling in Manila, my brother Dennis, who barely complains about my hectic schedule.
But of course, let me thank the Lord, for this life-fulfilling opportunity. I ask Him for strength to enable me to serve fully our association. I take up this challenge & with your unstinting support, I know, we, together will not fail.
DITAS CRISTINA D. DECENA, MD, FPOGS, MPH
USTMAA President
2005 USTMAA President's Report
December 18, 2005
My Dear Fellow Alumni,
It has been a great pleasure working with the UST Medical Alumni Association for the past 12 months. Indeed, time has passed by so fast and looking back, I now start to reminisce how I was able to tackle our schedules -balancing the demand for the various meetings, implementing projects, organizing events and attending to the needs of the alumni and the association.
Giving service of the university - its students and faculty, the hospital and most especially to the alumni, both locally and abroad - has been my primary concern. The partnership of the Association with the Faculty of Medicine and Surgery through the Office of the Dean and the Student Council, has provided a great venue for creating a good environment for work. Our linkage with the alumni abroad has made it also possible for us to readily accomplish many of our projects with the logistics provided us. Modern technology through cyberspace facilities has indeed made communication with them much easier.
I would like to commend my truly energetic and hard-working Board of Directors and secretarial work-force who have provided immeasurable assistance to our Association's missions. A special mention too goes to the AHOC(Alumni Homecoming Organizing Committee) and the T.H.O.M.A.S. Awards Committee for its year-long service in preparation for the Grand Alumni Homecoming and CME this December. The Medical Missions team has also provided quality health care to our fellow countrymen in need.
I cherish the precious times I spent with our Fellow Alumni who have come to visit our Alma Mater… and the old and new friends I have made esp. during the meetings and homecomings abroad. I would like to express my gratitude for the support and confidence you all have extended to me during my term. My predecessors have started the work and I they have motivated me to continue the job. With your support, you have helped me in the growth of USTMAA. I look forward to continuing to serve you through the USTMAA Foundation which has been re-born this year.
I would like to present to you the various activities of USTMAA and my contributions to its growth. I would be very happy if you could take time to look at the pages that follow.
Thank you for all those who have stood by me esp. my colleagues and my family. The time I spent was not my own. I have tried my best to serve. May I share with you this prayer which has guided me and by which I stand, to wit:
God, grant me the serenity
to accept
the things I cannot change,
the courage to change
the things I can,
and the wisdom
to know the difference.
Adapted from Reinhold Niebuhr
From your servant,
CYNTHIA FLORES-FERNANDEZ, MD
2005 USTMAA President